5 Reasons to Take the Skyliner to Disney's Art of Animation Hotel, Even If You Aren't Staying There
The Skyliner is one of our favorite ways to travel around Disney World.
It's Disney's newest form of transportation, and it may be the most fun to get around. It can take you to Hollywood Studios, EPCOT, and several resort hotels. There's one hotel that we particularly suggest taking a ride in the skies to visit even if you're not staying there!
Disney's Art of Animation Resort is considered a Value Resort, similar to Disney's Pop Century and the All-Star resorts. 
Also like Pop Century, Art of Animation is along the Skyliner's path, actually sharing a station with Pop Century.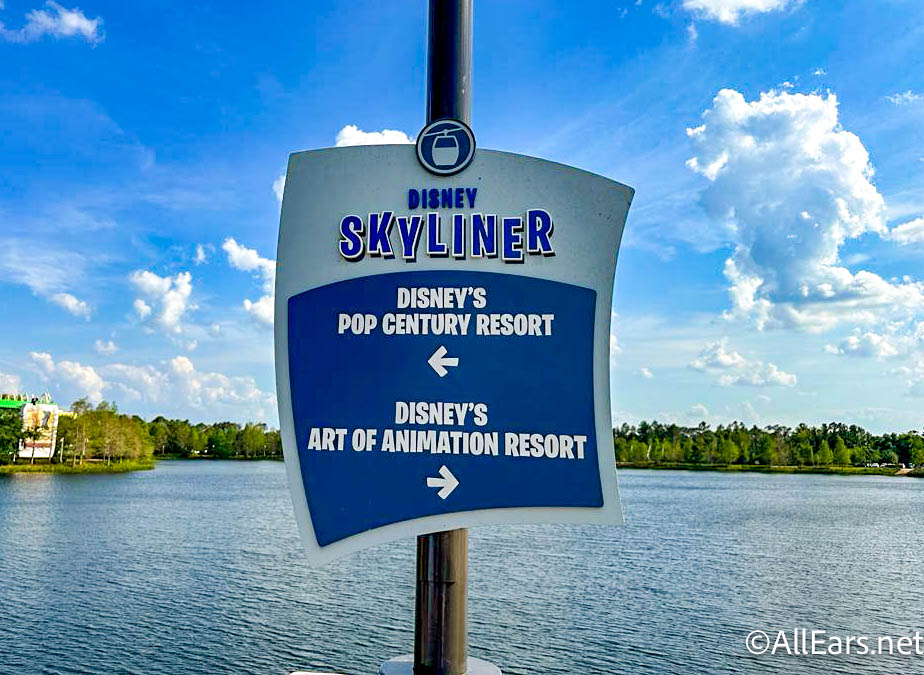 Since it's so easy to get to by the Skyliner, we decided that this resort is a must-visit, even if you aren't staying there. Here are 4 (plus one shameless plug for Pop Century) reasons to fly over to Art of Animation.
Photo Ops
The Art of Animation resort is similar to the All-Star Resorts not only in price category, but also in that everything is larger than life there. They've basically brought Cars Land from Disneyland and added it to a hotel.
In the Cars area of the hotel, you can see all the characters from the beloved movie and get pictures with each of them. It's so cool how Disney was able to create this piece of Radiator Springs for us to enjoy.
Seriously, we could go on and on about the Cars area. But the other sections of this hotel are also really cool to see and create great photo locations as well. There are Little Mermaid, Finding Nemo, and Lion King sections that are worth checking out.
The Snacks
Art of Animation has three pools (which we'll talk about more later). At the biggest of these pools, The Big Blue Pool, you can visit The Drop Off Pool Bar. If you didn't guess it from the names, this pool and bar are in the Finding Nemo section.
This is one of the Disney pool bars that you can visit without staying at the resort. We enjoy this bar because it frequently has different seasonal offerings.  Also, inside you can find Landscape of Flavors which also serves some fantastic seasonal foods!
One of our reporters let us know that she LOVES the How Far I'll Go Haupia Pie which is just one of the many offerings inside this quick-service restaurant. We also recommend taking your food to eat out by The Big Blue Pool as you can usually catch some great music to enjoy, too!
Watch Movies Under the Stars
Also at The Big Blue Pool, you can catch nightly movies! So if you fly over to the resort, there's a chance you can catch a movie under the stars.
This Disney resort perk is also offered at other various hotel locations.
Kid's Play Area
So as we mentioned previously, there are three pools at this resort. There is a Finding Nemo pool, a Cars pool, and a Little Mermaid pool. At The Big Blue Pool, you can find the main pool area, a splash play area, and a play area without water called Squirt's Righteous Reef.
If you want a little break from the parks but still need to entertain the kids, this could be a great place to visit to see the sights and play around with Squirt! Plus, the music near The Big Blue Pool is always great (did we mention this already?).
Pop Century
Since Art of Animation and Pop Century share a Skyliner station it would be pretty easy to take a quick walk to check out that resort, too! A fun pastime we like to do is find the Hidden Mickeys located around the Disney hotels.
If you've never been there, it's worth the extra bit of walking to check it out. Plus, the Art of Animation was originally meant to be a branch of Pop Century before Disney changed the concept to what it is today! So head over to see what Art of Animation could have been.
Since Art of Animation isn't really close to many things many people might not realize how special this hotel is. So if you have some extra time, hop on the Skyliner, enjoy the best part of the ride around Hourglass Lake (in our opinion), and see this larger-than-life tribute to the animation work of Disney and Pixar.
For more Disney news, check back to All Ears!
Have you stayed at the Art of Animation? Let us know in the comments!