Not your typical port of call: Wisconsin now a destination for cruise ships
ALGOMA — The boat looked almost out of place as it used its thrusters and propellers instead of anchors to stay in place about a half mile off Christmas Tree Ship Point.
The harbor here could easily accommodate the wooden schooners of the past and is ideal for today's fishing boats that troll Lake Michigan for salmon and lake trout.
Not so much for the Viking Octantis, a $255 million cruise ship more than twice the length of a football field and which can hold up to 375 passengers and 256 crew members.
But this luxury expedition ship, equipped with two submarines and a small fleet of vessels for exploring everything from islands to icebergs, has become a familiar sight this summer.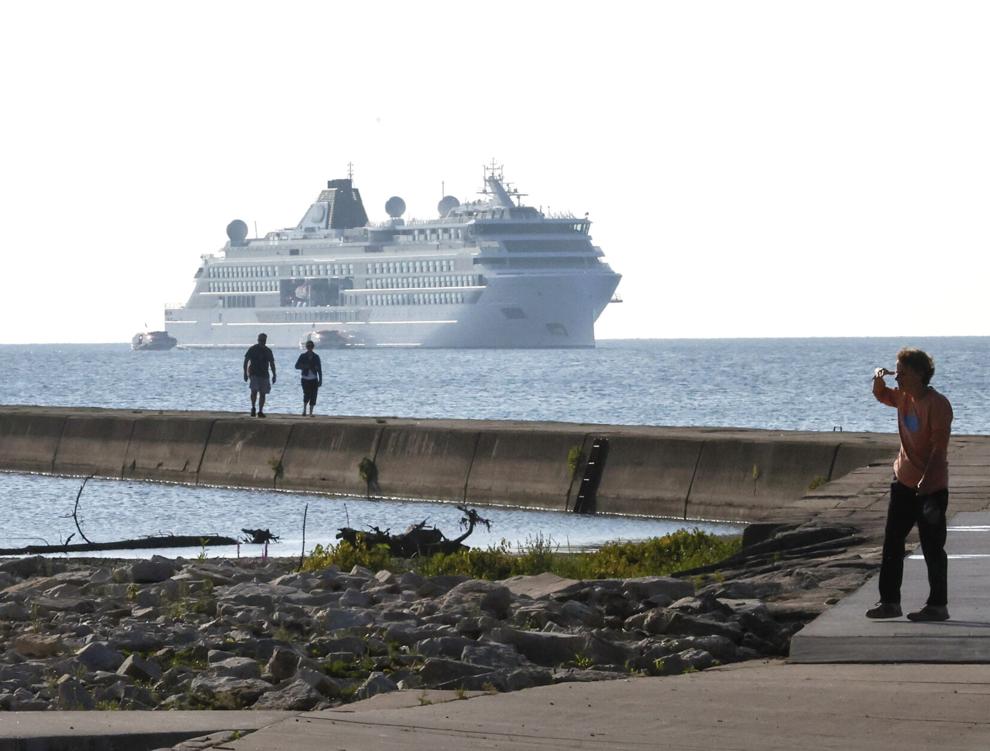 Algoma, about 32 miles east of Green Bay and on the Lake Michigan shoreline of the Kewaunee County portion of the Door Peninsula, will never be confused with Key West, the Mediterranean or the Caribbean. But the city of 3,219 people is among the many Midwest stops for cruise ships that are increasingly plying the Great Lakes.
The ports of call, which this year in Wisconsin have also included Green Bay and Milwaukee, are bringing new waves of tourists and their cash and credit cards to a region that for decades has been largely reliant on families from the Midwest who arrive in minivans and sport utility vehicles strapped with space cases, bicycle racks and kayaks.
Only when visitors disembark from the Octantis' tenders, they are greeted at the dock by residents who wave and welcome the passengers, something that is not typical in most port cities.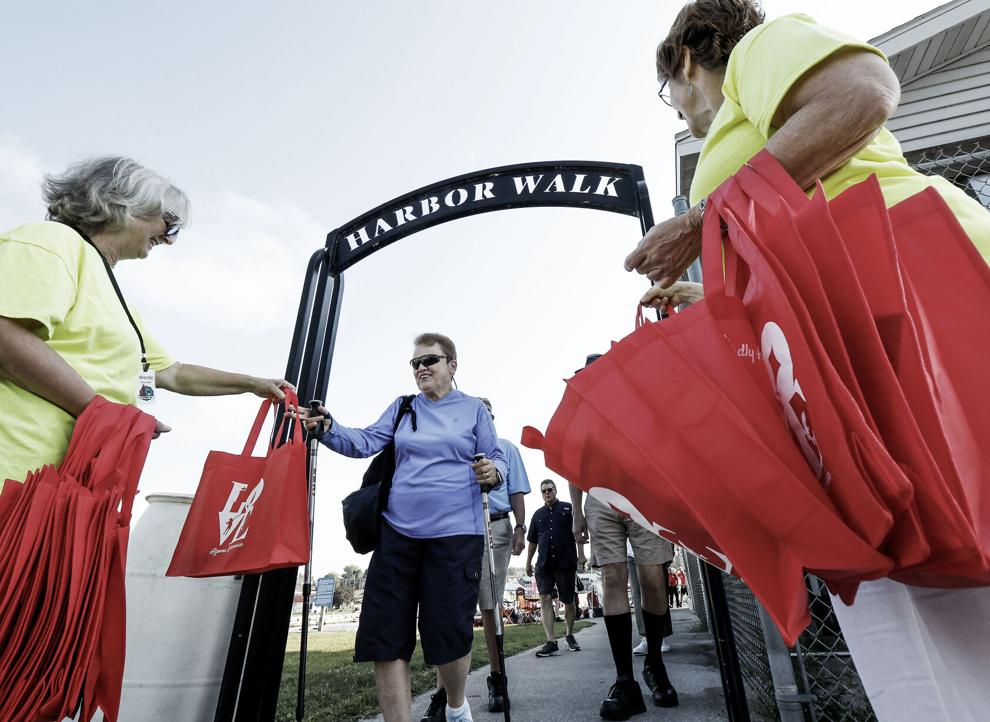 "We'd like them to remember Algoma as a friendly little place and that not every place is big and touristy," said John Cross, as he sat in his Volkswagen van eating breakfast with his wife, Kathy, waiting for the next tender boat to arrive. "I think it raises the profile of Algoma and helps the community. A lot of people don't recognize the natural beauty we have around here and the friendliness of the town." 
Some take in music and wine at Von Stiehl Winery while others may choose a craft beer at Ahnapee Brewery, both just a few minute walk from the dock. There are pottery classes at Clay on Steele, concerts in Heritage Park, local bookstores and gift shops that have altered their hours to better accommodate the crowds and on this day Hindenburg subs and reuben sandwiches on rye at Millie's Pub & Grub. Bloody Marys and live music at Smashed on the Rocks Saloon are popular and overlooks the harbor, a block away from Northwater Bakery and Deli where one of the specialties is a knee cap, a whipped cream-filled doughnut.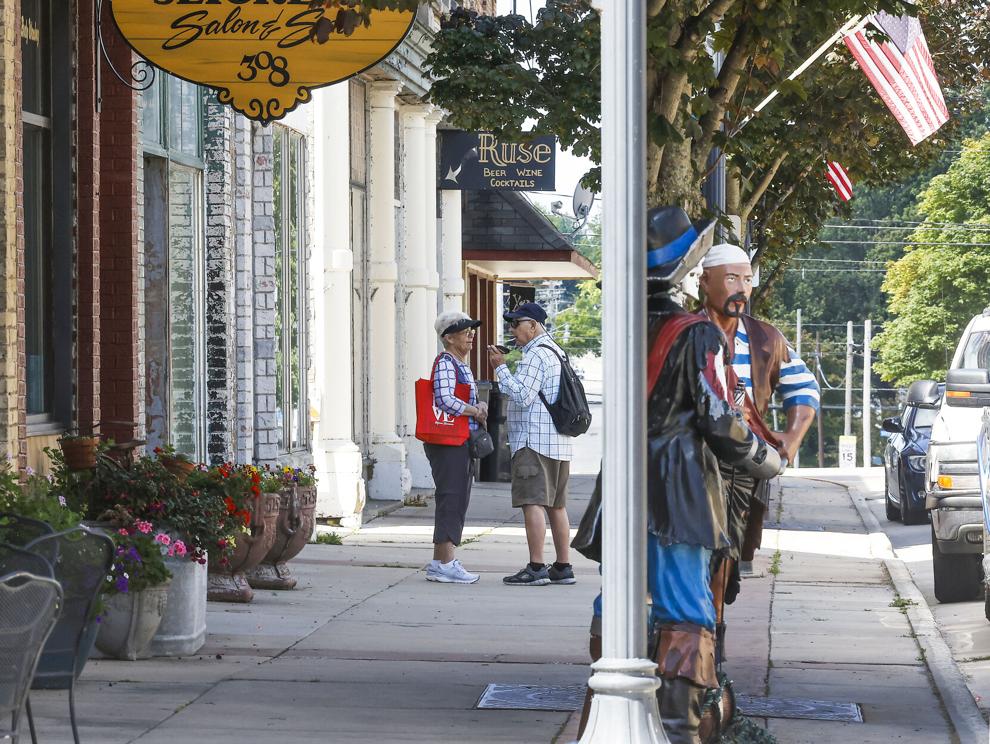 The day-trips for cruise passengers also can include tours of Lambeau Field, hiking at Potawatomi State Park west of Sturgeon Bay and kayaking in Moonlight Bay near Bailey's Harbor. When the Octantis arrived Aug. 10, there were 10 Badger Bus coaches waiting to whisk them away.
Nancy and Steve Gray came from New Hampshire and are on the Octantis for about a month, a trip that will take the couple to all five of the Great Lakes. Their day-trip from Algoma was a sightseeing tour of Door County that included stops at wineries and orchards.
"We've sailed a lot around the world," said Nancy Gray, 70, a retired wedding planner.. "As kids you always heard about the Great Lakes but I had never seen them or been on them. It was really fun to see the people from the town coming to greet us as we got off the boat. It's such a lovely area."
"We felt like celebrities," Steve Gray, 73, a retired electrician, added just before hopping on the idling bus.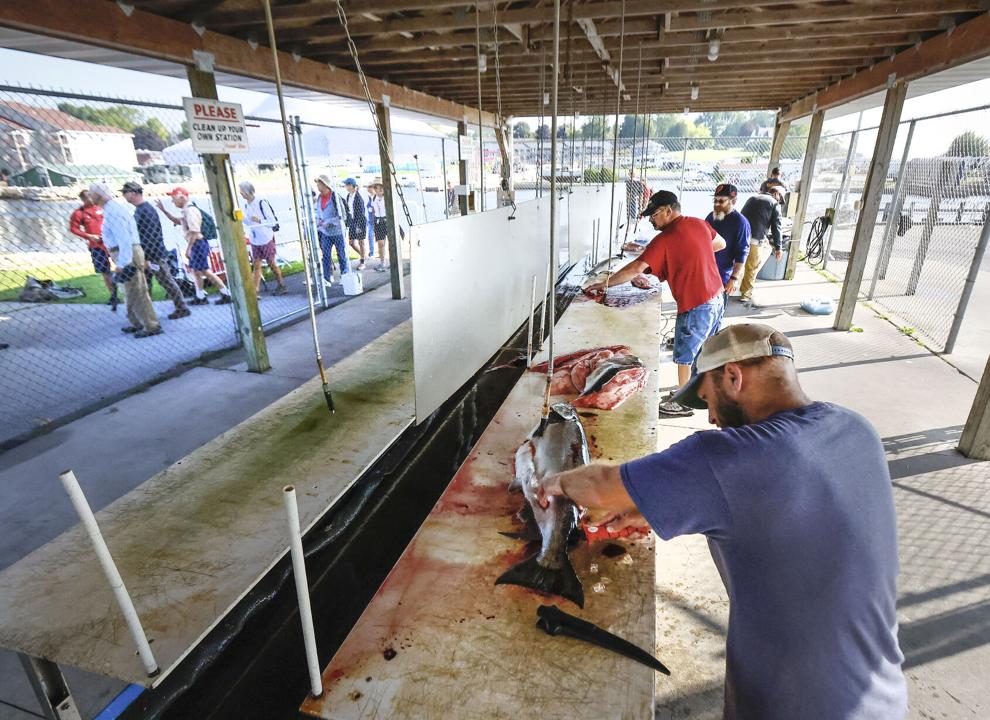 Cruising is not a new tourism concept for the Great Lakes but the industry has boomed post COVID-19.
Prior to the pandemic, Milwaukee had welcomed since 1997 a few boats each year but 2017 marked a turning point with four boats and just over 1,000 passengers, according to Port of Milwaukee data. In 2019, there were 10 boats that brought a combined 3,214 people only to see no boats in 2020 and 2021. But in 2022, just over 13,600 people came to the city to start, end or continue a cruise via 33 ships.
An estimated 12,000 people on 31 boats are expected to use the port this year while port officials are planning for the 2024 construction of a South Shore Cruise Dock just east of the Lake Express High-Speed Ferry terminal. The new facility will serve as the future port-of-call for vessels the size of the Octantis and her Viking counterpart, the Polaris, with eight day cruises from Toronto to Milwaukee starting at about $6,000 per person.
Pearl Seas Cruises is offering 12-day trips on the Pearl Mist that range in price from $8,850 to $14,730 per person while Ponant, a French company, is offering eight-day cruises later this month for $7,710 to $22,000 per person.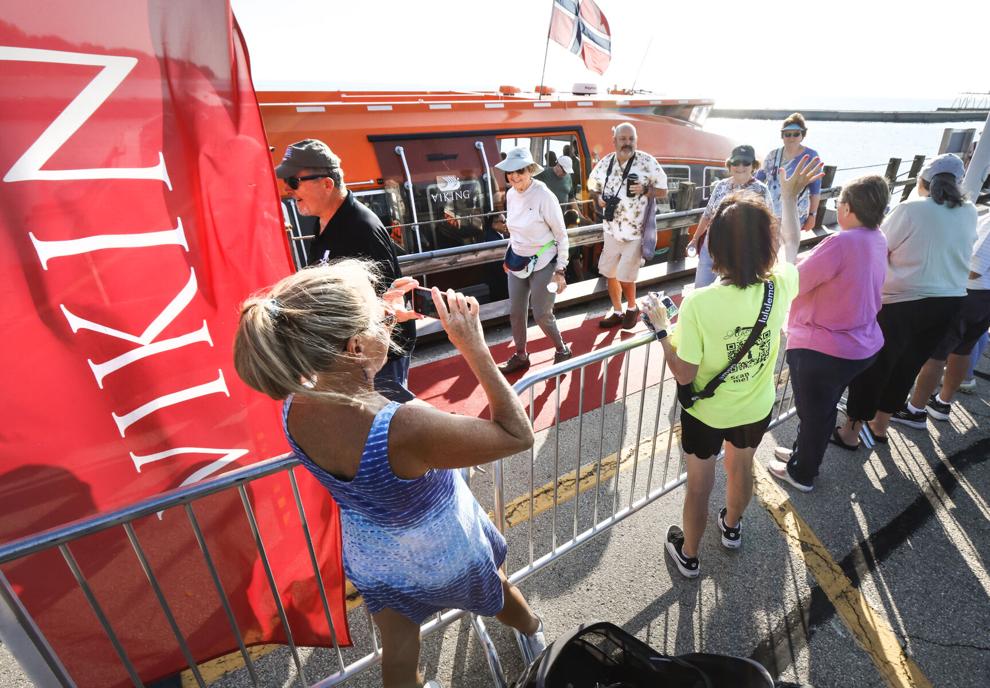 In February, Viking is also offering a 65-day cruise for $45,000 per person that begins in Buenos Aires, Argentina, makes a stop in Antarctica and in seven other countries before ending in Milwaukee in early May.
"International cruise ship passengers that travel to Milwaukee stay in our local hotels, dine in our restaurants, visit our museums, and enjoy all the great things Milwaukee offers, including our outdoor assets," Jackie Q. Carter, director of the Port Milwaukee said. "By working with tourism and hospitality stakeholders, this effort is a wonderful example of how the port's partnerships are creating new excitement and economic activity in Milwaukee."
Green Bay had two visits in 2022 and two more this past June from American Queen Voyages' 202-passenger Ocean Navigator while the Mississippi River offers a different style and pace.  The 166-passenger American Duchess, a luxury paddlewheeler, has made four ports of call this summer in La Crosse while the 245-passenger American Countess will dock in the city four times between Aug. 27 and Oct. 11.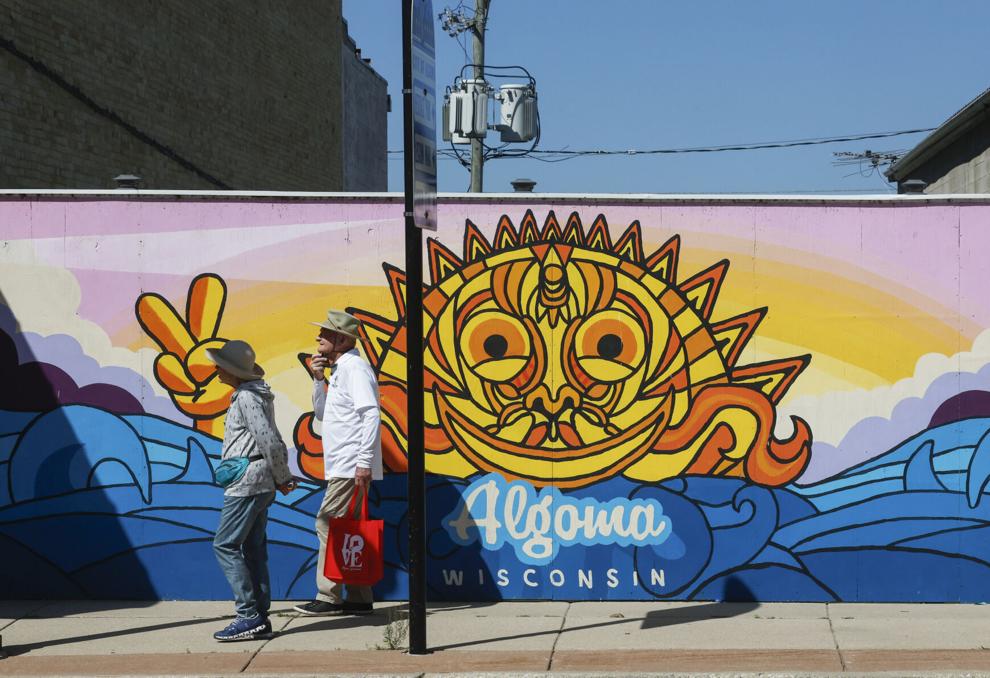 Back on the Great Lakes, Bayfield officials are holding out hope that ships will return to the Lake Superior port community known for its apples, wineries, sea caves and the Apostle Islands. The Octantis made six stops in the city in 2022 but did not return this year due to logistical challenges from a 1920 Merchant Marine Act that requires internationally registered ships to stop in a foreign country after leaving a U.S. port. Viking's schedule this year includes stops in Thunder Bay, Ontario, and Duluth, Minnesota, but Bayfield's location on the lake would have required a route that proved to be too costly and time consuming, said Ted Dougherty, chair of the city's harbor commission.
"We'd welcome Viking back in a heart beat and they don't take up any parking spots," Dougherty said of the spaces that can be hard to come by in the city. "We're full up in the summer so we'd love to have them back. Long term, it would be good for the community."
Cruise ships weren't on the radar of Algoma officials until they were contacted by Viking and selected last fall. The result has been eight scheduled stops by Viking ships between June 16 and Sept. 17, each between nine and 11 hours long. It's the first time in the modern era that passenger ships have come to the city, that in the late 1800s and early 1900s was home to captains and crews of ships that hauled Christmas trees felled in Wisconsin's northwoods to Milwaukee and Chicago.
In additon, the Germany-flagged Hansiatic Inspiration, a 230-passenger ship, made its first ever stop in the city in June and is scheduled to return in October.
"They're already booked for next year so we know we have them next year and they're already talking about 2025," said Rosemary Paladini, the executive director of the Algoma Area Chamber of Commerce. "It's something that now is going to be a part of our culture. It's given us a larger voice and it's a great way to showcase Algoma."
Most people on the boat began their cruise in Toronto with stops in Cleveland (where many took in the Rock 'n Roll of Fame), Detroit (the Henry Ford Museum), and Alpena (for shipwreck tours). After departing Algoma, the Octantis headed north to Mackinaw Island, Michigan, through the locks at Sault Saint Marie and into Lake Superior with stops in Thunder Bay, Ontario, Canada, before ending for most in Duluth, Minnesota.
Becky Walter grew up in a small town in Georgia and for the past 50 years has lived in Virginia Beach, Virginia. She boarded the Octantis on Aug. 4 in Toronto and was scheduled to end her trip Aug. 18. While her husband, Larry, hiked in Door County, Walter caught a free shuttle bus from the Algoma dock to the city's downtown and sat for a spell at an outdoor table on Steele Street where she used a pencil to draw and write in her journal.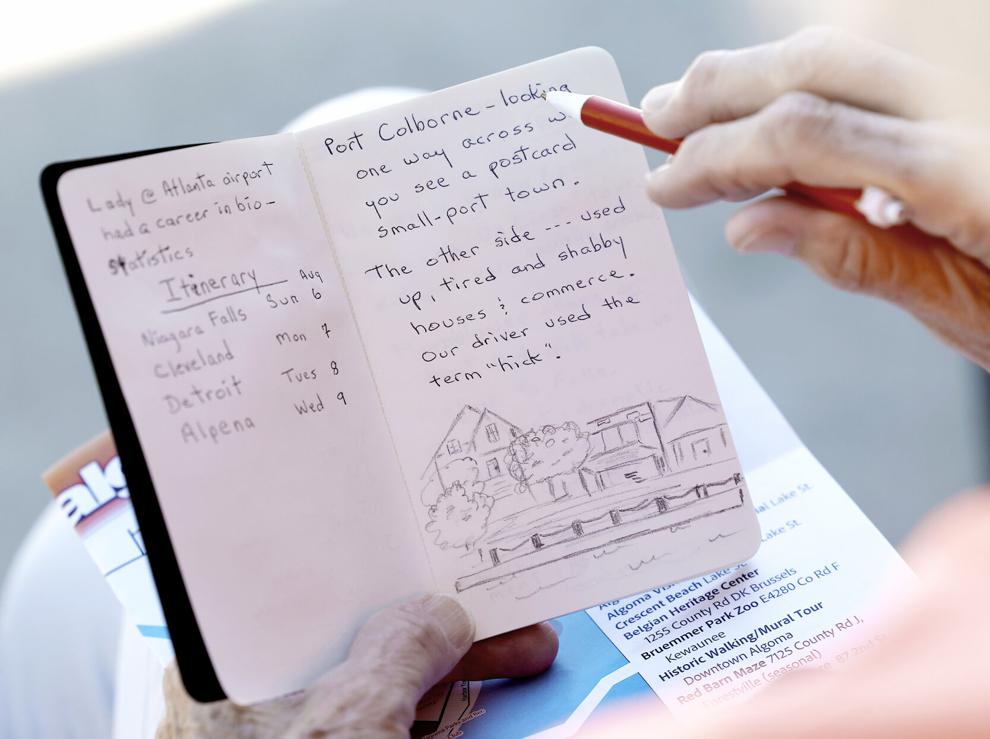 "This is my adventure," said Walter, an experienced cruiser who has done bike trips via river boat in Europe. "This is lovely. I can go into any store here and chat up anybody and be comfortable. Everybody wants to show off their town." 
The influx of tourists to Algoma's downtown doesn't always mean a big uptick in business for Heidi Raak, owner of Yardstick Books, located in a restored 1875 building. She opened her shop in 2019, survived the pandemic and even though she may only sell a few post cards to some, knows it's helping to establish a vibe that could bring more people, including those not on cruises, to the city.
"I think it's good for our business for a lot of reasons beyond just folks shopping," Raak said, as her cat, Carrotpants, snoozed in a nearby chair. "We are all a little surprised by (the cruises) but we're glad they're stopping here. It's good for us."