Sound Transit To Buy New Buses for Stride BRT, But Some Could Be Lemons
Sound Transit plans a mix of articulated and double-decker buses for Stride, all of which will be battery-electric.
Sound Transit is poised to move forward with the purchase of a new fleet for its Stride bus rapid transit program. Agency staff hope to win approval for the contracts this week at the agency's System Expansion Committee. But there is some legitimate concern with part of the fleet acquisition proposal.
To support the Stride program, Sound Transit is planning to use a mix of articulated and double-decker buses, all of which will be battery-electric. As part of this, the agency will be installing compatible charging equipment at various layover spaces and at the new new Stride bus base. This includes installation of a dozen pantograph-style fast chargers at Burien Transit Center, Bellevue Transit Center, Lynnwood City Center station, South Shoreline/148th station, and the SR 522/I-405 transit hub as well as about two dozen dual plug-in chargers at the bus base and keeping four portable chargers on hand for backup field use.
Sound Transit will use two-door 45-foot double-decker buses on the S1 and S2 Lines. According to an agency report, this type of bus is better suited to the express nature of the planned lines. "There is a clear preference among current ST Express passengers who already ride double deckers on I-5 and I-405 corridors," the report says. "The buses on these routes will also be traveling at highway operating speeds between stations that will generally be several miles apart. More seats and fewer standing passengers will result with a more comfortable passenger experience with highway operations."
The agency plans to purchase a total of 32 double-decker buses from Alexander Dennis, a British-based manufacturer, using their Enviro500EV model. In 2018, Sound Transit acquired diesel versions of these double-deckers for its Community Transit-operated ST Express bus routes originating in Snohomish County, so many riders will be familiar with the vehicles.
The Enviro500EV's have a range of 250 miles and charging time takes up to four hours. Vehicle costs are about $2.5 million a piece, inclusive of charging equipment, for a total of $80.5 million. The first batch of coaches are expected to start arriving in May 2027.
Additionally, Sound Transit intends to use three-door, 60-foot articulated buses on the S3 Line. According to an agency report, that type of vehicle is better suited to the characteristics of the line than double-decker buses would be. "Compared to the S1 and S2 routes, S3 will have shorter trips and shorter distances between stops, meaning that finding a seat for the duration of the ride will be less of a priority to passengers," the report says. "The S3 route will also have more total stops. This will mean a higher proportion of the travel time is during the dwell [the time at a scheduled stop without moving].." Riders are ultimately expected to be making on and offs much more frequently than with the I-405 Stride lines.
The agency plans to purchase a total of 14 articulated buses from BYD, a Chinese-based manufacturer, using their K11M model. According to BYD's specifications, the vehicles have a top speed of 65 mph and range of 193 miles with charging time ranging from three hours to eight hours, depending upon the equipment used. K11M vehicle costs are slightly higher than the double-deckers at about $2.6 million a piece, inclusive of charging equipment, for a total of $36.9 million. Sound Transit expects that the first K11M's will to start arriving in December 2026.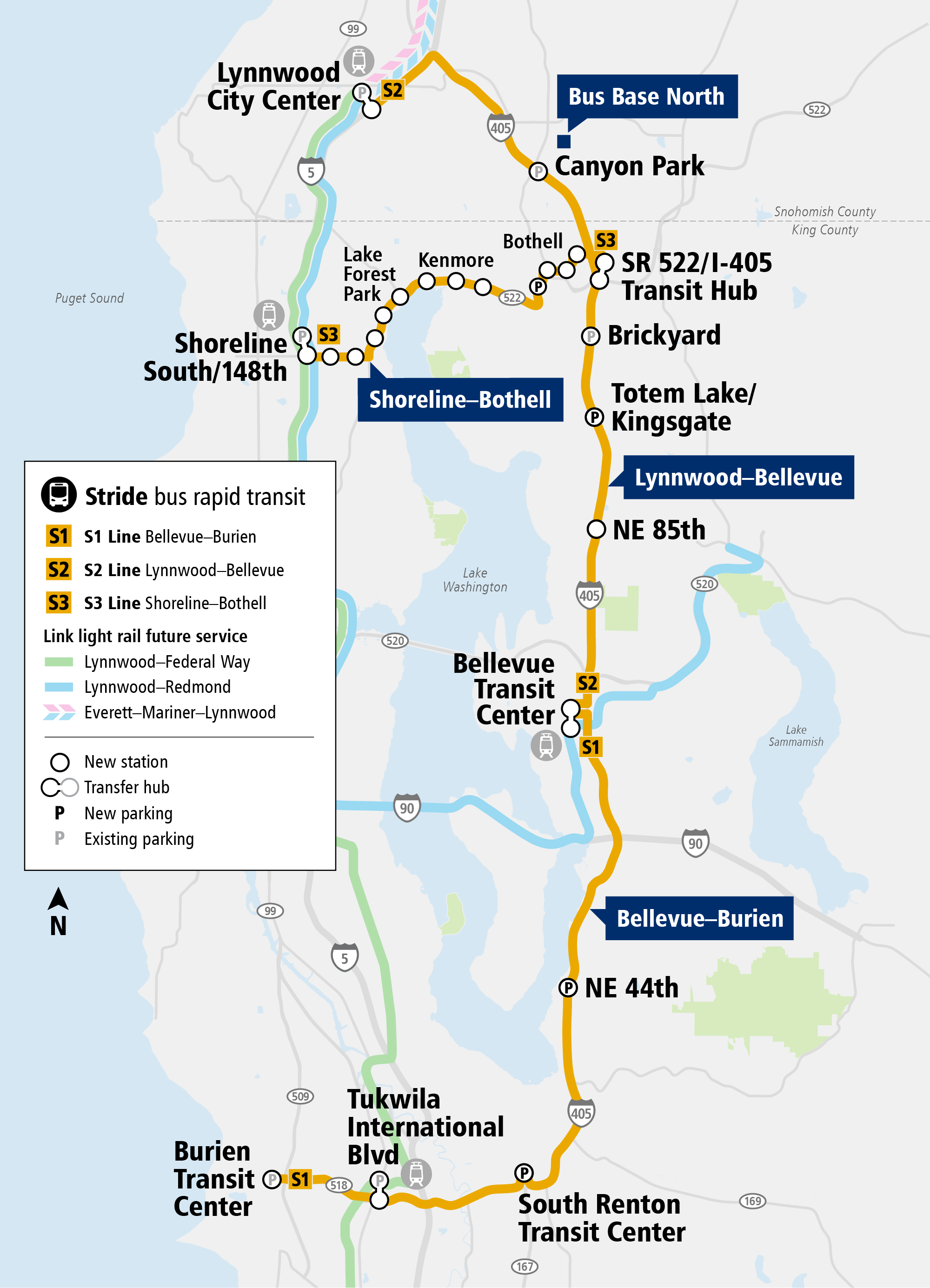 However, over the weekend, transit aficionados on social media were quick to point out that North American experience with BYD battery-electric buses has gone poorly.
The City of Albuquerque returned its BYD buses because of poor range, overheating equipment, uninstalled charging infrastructure, and an instance of failed brakes. The city then moved to sue BYD over its failure to meet its obligations and purchased conventional diesel buses instead from New Flyer. That delayed the new Albuquerque Rapid Transit service by two years.
In Indianapolis, local transit agency IndyGo cancelled a second order of battery-electric buses with BYD due to similar issues. Range of the vehicles wasn't what was promised, particularly in cold weather. BYD did try to improve range by installing inductive charging along routes, but IndyGo ultimately purchased conventional diesel buses as part of its fleet expansion.
And in Los Angeles, the excitement for an unveiling for five new BYD electric buses on Earth Day 2015 was quickly dashed. According to LA Metro logs shared by the Los Angeles Times, the first ten days went anything other than smooth: "White smoke issued from the rear wheel of #1005. Bus #1004 wouldn't start for its second run of the day, and on its next run it needed a jump-start. Bus #1001 limped back to the depot when its battery dropped to 15% charge after just 68 miles, failing to complete its route. Then, logs show, #1005 stalled on the road."
Sound Transit is planning to have a 20% spare ratio for vehicles, but if the agency encounters these kind of problems other American transit agencies have had with BYD buses, that won't be enough to keep the S3 Line up and running.
As of December 2021, the Federal Transit Administration has had a ban on funding new purchases of BYD vehicles due to its ties with China, even though BYD's American subsidiary manufactures vehicles in Lancaster, California. The federal government imposed funding restrictions, in part, because of claims of unfair competition and cybersecurity risks from China.
Sound Transit, however, is purchasing both sets of buses through a state price list contract that is effective through early 2024. The state contract was made in April 2021, so the agency is still eligible for federal funding for any BYD buses purchased from the list. However, Sound Transit could just as well purchase battery-electric buses known to be reliable with the state contract. New Flyer, for instance, produces 60-foot articulated battery-electric buses that could be suitable for the S3 Line, which are already covered by the state contract.
The Stride bus rapid transit program is already significantly over-budget and delayed. Line openings are now pushed back four to five years, with the S1 and S3 Lines projected to open in mid-2028 and the S2 Line projected to open in mid-2029. The agency could be taking another major schedule risk by moving forward with a BYD contract instead of sticking with a safer option. Maybe BYD's buses will turn out to be fine, but having an all-battery-electric bus fleet even with the best of equipment is a serious roll-of-the-dice due to their operational complexities and general infancy of technology. Sound Transit staff could be setting themselves up for another self-inflicted black-eye on a project that already has had so many.